---
Song was written, produced and performed by Andersen Storm. Released on 2020-12-18.
Quiet
Took you by the hand, my love.
Used the small chance to get off.
Outside the fields were shining white.

Big city met the house.
Finally out to meet the spouse.
A great Christmas party has it's pride.

We tried to bridge the space that's grown over the working days.
But we walk side by side through the winter white.
Quiet.
Stretch out my hand to you.
Your look says: Don't know what to do!
It sounds like a blame, your "I am cold!"
I take you i n my arms and kiss you!
Dear, are you warm now?
But you are talking back: You're getting old.
I have so much to say to you after those rainy days.
We walk hand i n hand through the winter white.
Quiet.

It was not always easy to
be with me, being with you.
Who said i t would be easy stuff?
Was tempted to get lost i n a spell.
You overdrawn the bow as well.
But until now i t's still enough.
Now the holidays are here.
Wonderful air, so cold and clear!
So healthy is a Christmas walk.
I take a snowball in my hand.
Normally you would run and bend.
But now you are kissing me. Don't talk!
There will be still a lot of space on the all-weather days.
We dream of it in fields of winter white.
Quiet.
Quiet.
© Andersen Storm 2020, All rights reserved. Alle Rechte vorbehalten.
---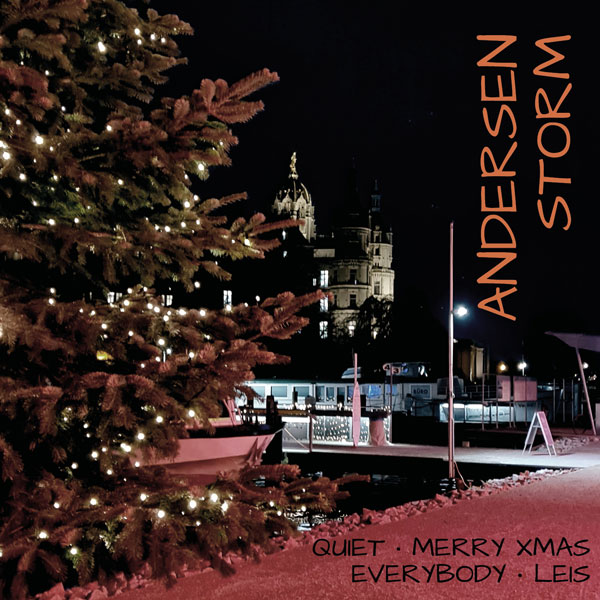 Song "Quiet" by Andersen Storm
"Quiet" by Andersen Storm
Released 2020
MP3-File, 6.0 MB (03:13)